Date Masamune Daimyo Yoroi
Our Date Masamune Daimyo yoroi is faithfully and masterfully reproduced by the senior kachushi (armor crafter) of the Miyami Armory in Japan.
Fully accurate in every detail, from its 62 laminated plate which is hand riveted, unique Sendai style dô, down to the Date clan's black glossed armor with navy blue lace; accented in yellow trim.
The Go-mai sendai (aka yukinoshita dô) is crafted from a 5 plate design, featuring 4 hinge (gô-mai). It was originally name after Yukinoshita Denshichirô Hisaie, who first crafted this iconic design. However it is most commonly known as the Sendai Dô, after a large city in the north of Japan; which was the capital of the great Daimyô Date Masamune, who admired the design so much he equipped his entire army with this style of yoroi.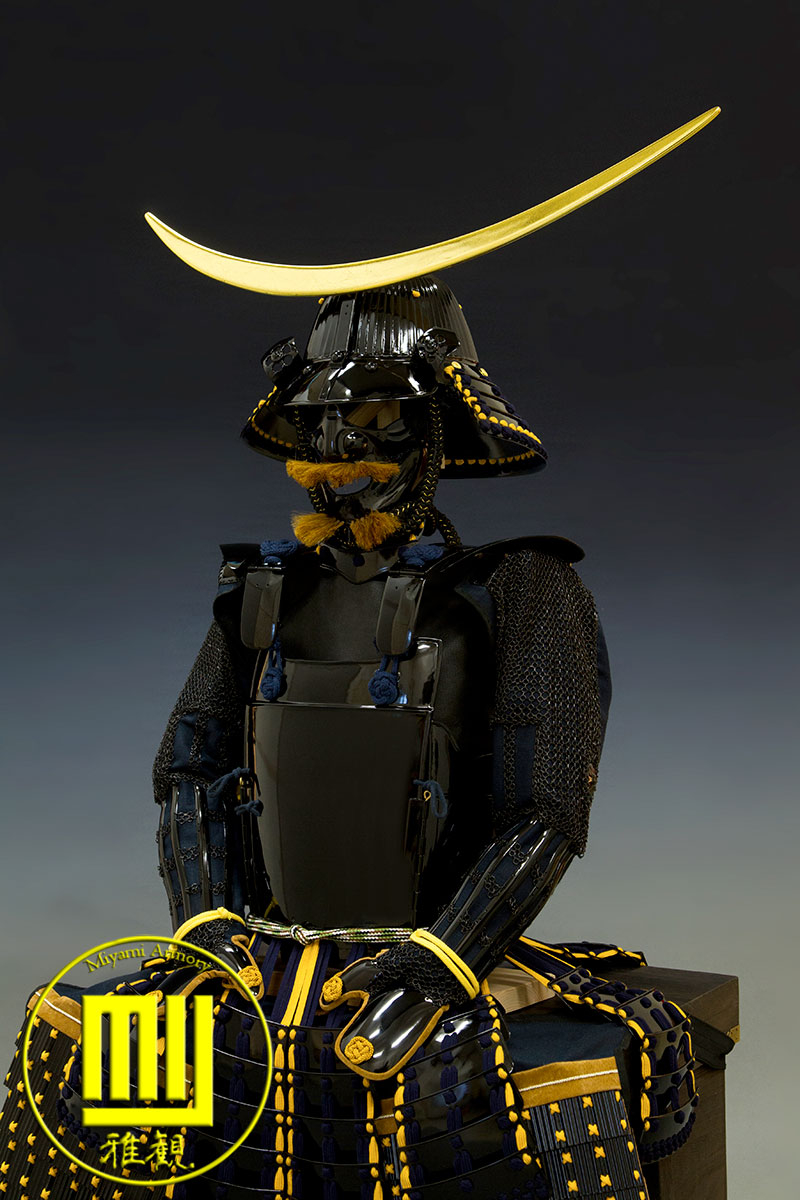 This suit was modeled faithfully after the Date Masamune yoroi proudly displayed in the Sendai museum.
Date Masamune (伊達 政宗, September 5, 1567 - June 27, 1636) was one of the notable generals of Feudal Japan. A master tactician and strategist, and heir to the powerful Date Clan, Masamune was commonly referred to as "gokurandyu" (one-eyed dragon) because he lost sight in his right eye thanks to smallpox as a child. There are many legends on how he lost his eye completely: some say he plucked the eye out himself, or had one of his faithful retainers do it for him.
What is known however that despite his impairment, Masamune was a renowned strategist and a fearsome warrior; leading his first campaign at fourteen, and succeeding his father as daimyō of their Clan at seventeen. As well as being legendary on the battlefield, Masamune was also known for is ethics, and also went on to found the modern day city of Sendai.
This exquisite reproduction of Date Masmune's personal armor (yori) is as beautiful as it is intimidating, lacquered in black and given detail by the clan's yellow and navy blue lacing. The kabuto (helmet) is made up of sixty-two individual pieces, and crowned with the Date Clan's iconic crescent moon maedate (crest). Made with solid iron and lined with chainmail, this incredible suit of armor is full-sized and fully wearable, and looks equally amazing when worn or on display.
Includes free customary black lacquered box which, along with an included wooden frame, provides the support for the display for this beautiful armour. Instructions are also included.
Traditionally Handcrafted : Traditional Materials
Highest Quality: Made In Japan
We are the ONLY exclusively licensed Dealer of quality armour for the world renowned Iron Mountain Armory, Miyami Armory and Little Star Enterprises Inc. in Australia.